Greece, State TV Pulled of the Air by Government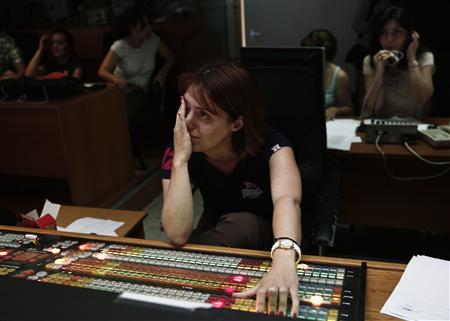 An employee wipes tears as she works with colleagues at the Greek state television ERT headquarters
Athens June 12, 2013. REUTERS/Yorgos Karahalis.


The Greek government took the State TV network, ERT, off the air at midnight on Tuesday 11th June, just hours after announcing the move.
Government spokesman Simos Kedikoglou told Reuters the shutdown was decided six weeks ago
The journalists' union denounced a "coup d'etat" to muzzle information and called for strikes in all Greek media and some ERT journalists were occupying the state broadcaster's building.

In a potential blow to Greece's efforts to turn around its economy and pull out of a six-year recession, equity index provider MSCI downgraded the troubled euro zone country.

The government decided to pull ERT off air hours after the announcement because of fears that workers would damage state equipment, spokesman Kedikoglou said.
A slimmed down version of ERT will be relaunched as early as a few weeks and by early autumn at the latest, he said.
"We didn't shut down ERT, we temporarily suspended its operations to fix it and make it work on a healthy basis,"
Broadcast journalists began an indefinite strike in protest, and television channels carried reruns and documentaries on Wednesday.
Staff at the shuttered state channel NET continued broadcasts on the Internet without government approval.
Strikes at newspapers and other print media will begin Thursday,

Tthe journalists' union said that "The strike will only end when the government takes back this coup d'etat which gags information,"
The government said ERT was a case of "incredible waste" and the shutdown would save taxpayers money.
The speed of the shutdown stunned Greeks long used to the slow pace of public sector restructurings.
Thousands of protesters rallied outside ERT's Athens headquarters late on Tuesday to protest against the sacking of about 2,600 employees, 600 of whom are journalists.

By Harry Papachristou and Lefteris Papadimas
(Additional reporting by Tatiana Fragou, writing by Deepa Babington; Editing by Paul Taylor)

Comment:
Greece has a lot of friends in the UK who would like to help.
They have been treated really badly by the EU & by the Germans.
Why should they be punished for the economic insanity in Brussels.
The EU pushed cheap money on to the Greeks & then stole their sovereignty.
Goldman Sachs allegedly ripped off the Greek economy two or three times to add to their woes.
Who knows what the truth is but these people need help.
We should be there for them, they are Europeans, they are our allies & our friends.
Why doesn't the UK government help them instead of wasting money on surveillance & parking.










Return to Main Page